This was the biggest day of travel for the entire holiday.  We awoke and then headed into Milford Sound, this part of the trip is stunning as we pass snow covered mountains, waterfalls, flowing creeks and forest.  We learn that there had been recent avalaches in the area and the road had been closed for some time  prior to our visit. 
Beware of avalanches – the drive is amazing
We see the remnants of the avalanches with diggers clearing the road sides so we can pass.  Avalanche signs warn visitors to not stop in these areas.  We arrived at the boat terminal to see our friends off on one of the many cruises through the sound.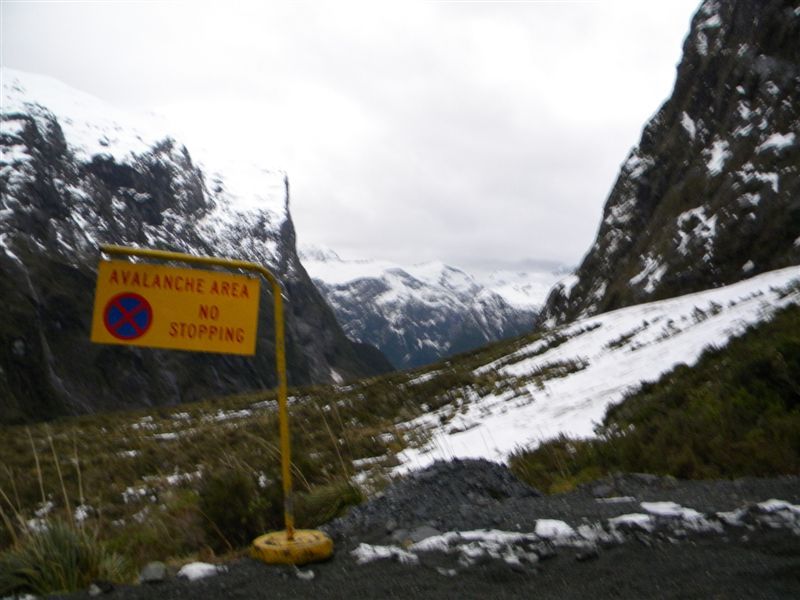 We head back to Te Anau, stopping along the way at many of the walks and lakes.  This is truly a stunning part of the world and well worth the trip.  It was nearly a drive that we weren`t going to do but were so glad we did and would probably do it again. It is truly stunning and you can easily see what draws people to this area to hike the Milford Track.
We head to Te Anau, stopped for lunch at one of the many cafes and restaurants the town offers. We then head off across the Otago Plains to Dunedin.  We leave behind the mountains and replace it with green rolling hills and lambs, heaps and heaps of new lambs and farming land.
We arrive at Dunedin and find a campevan park close to the ocean.  Great facilities, cooking, washing and bathroom. Lots of restaurants in this area to choose from.