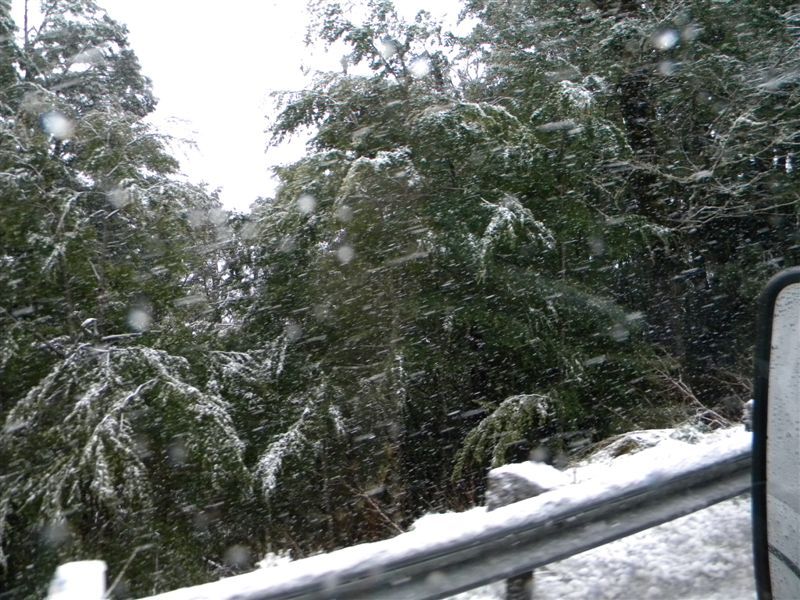 From snow to……heated thermal pools in one day
Today we woke to an overcast day and fresh snow on the mountains….it was cold but these campers have heaters that run off  the diesel so we definately didn`t feel the cold throughout the night. The lake is breathtaking in the morning light.  We head off  to Springs Junction to fuel up and have morning tea. A quaint little cafe that offered almost everything but whitebait fritters.  The locals tell us that Lewis Pass is open, if too much snow over night this closes, so lucky for us it is open.
As we leave Springs Junction it is raining and as we get higher up into the Pass, it turns to sleet and finally snow……..magic, spectacular, falling snow.  The children are beside themselves as they experience something they have never seen before.  Snow plough pass us as they clear the road to allow the traffic through.  That was an amazing experience.
We continue on to Hamner Springs where we will spend the night at Mountain View Top 10 Holiday Park http://www.mountainviewtop10.co.nz/ The kids enjoyed the playground with trampoline and the facilities we good. The park is situated within walkind distance to the thermal pools and town. We enjoyed the afternoon relaxing in the thermal heated pools before exploring town. A quaint little town with snow capped mountains as its back drop.