Finally dragged the children away from the animals and on the road again.
The next part of the trip is very pictureque and we stopped on route for photos with the snow capped Southern Alps as a backdrop.  Arriving at Lake Tekapo is stunning, the lake it self is nothing short of stunning, the turquoise colour is due to the glaciers.  The glacier ice is broken down to a fine powder and is suspended in the water and reflects the light to give it the amazing blue. Here the church of the Good Shephard is a must see and photos through the church window with the lake backdrop are truly amazing.
An aerial view of the glaciers, snow capped mountains and gorgeous glacial lakes.
A New Zealand must do is to take a small plane trip high above the mountains, Tekapo is a fantastic place to take off from.  We flew with Air Safaris http://www.airsafaris.co.nz/ and spent an hour travelling over the lake and across the Southern Alps.  We saw the great glaciers – The Tasman, Fox and Franz as well as almost being able to touch the top of Mt Cook.  The scenery is amazing, allowing you to really appreciate the beauty of this island.
TIP: Try to book a whole plane if you have 7 people.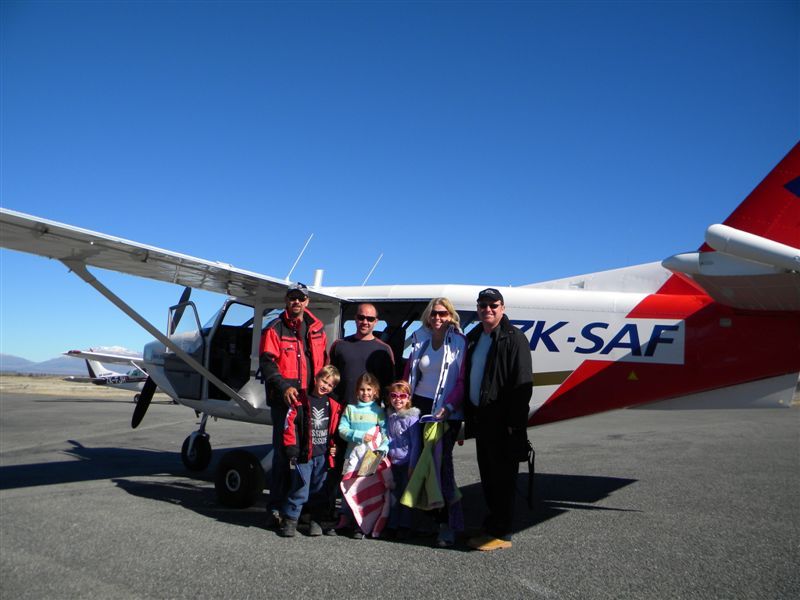 Stunning……….sunset at Lake Tekapo
Church view at Lake Tekapo
Returning to land, there is plenty still to do, the ice rink was a favourite and the thermal pools were popular as well.  An easy way to spend a day.
We stayed overnight at the Lake Tekapo holiday park.  Here the amenities were lovely, the only place we experienced where you had to pay for hot water, $2 a shower but nice and clean and there was carpet on the floor and a heater as well. Also a bath for younger children and plenty of room to dress the little ones.
A good array of restaurants in town, we opted for the local hotel and enjoyed the view over the lake as well as the food and a bottle of  the local champagne……..Lindauer of course.
The day was stunning and we also enjoyed a full moon rising over the lake, equally as stunning.